Westfalls Pest Control and Lawn Care - Mosquitos
Westfall's Lawn Care and Pest Control - Termites
Westfall's Lawn Care and Pest Control - Pest Control
Westfall's Lawn Care and Pest Control - Lawn care is important
Westfall's Pest Control and Lawn Solutions never loses sight of the fact that taking good care of our neighbors is the only sure road to success. We offer a wide choice of Pest Control, Mosquito, Termite and Lawn Solutions programs in the Bradenton, Parrish and Sarasota areas. All programs are designed to work in conjunction with our local soils and hectic weather. Westfall's Pest Control and Lawn Solutions offers a fast response to phone questions, lawn, and pest problems. We are confident that you will love our great service and results.
LAWN FERTILIZING: We offer three lawn fertilizing programs in the Bradenton, Parrish and Sarasota Areas. Whether you choose the Gold, Platinum or Ornamental Program we will use quality products and keep our eyes open to current or potential problems.
LAWN PEST CONTROL: We offer one time, monthly and quarterly lawn pest control treatments. Paying close attention to the native pests: Chinch Bugs, Sod Web Worms, Mole Crickets and Grubs.
GENERAL HOUSEHOLD PEST CONTROL PROGRAM: We will contact you every treatment and we will address any pest issues that you may be having in your home or business. We will remove spider webs, mud daubers, wasp nests from around the house and in unlocked screened areas up to 15 feet. All eaves, windows doorways, decks, lanais, and pool areas will be treated and liquid and granular bait will be applied around the foundation. This will be done quarterly and you'll get our BUG FREE GUARANTEE!
Pest Control is more than just the elimination of pests, it is the product of protecting your health, property and the environment. It's important to remember that not all service plans are alike. Westfall's Pest Control and Lawn Care offers the most comprehensive programs. Our treatments are thorough and and performed by our expertly trained employees. When examined as a whole other pest control companies cannot compare to what Westfall's offers.
Westfall's is here to help you whether you see or suspect pest infestations. We appreciate the opportunity to listen and understand your concerns and provide a free inspection and site evaluation. We have a focused commitment to meeting your needs and will share expert guidance and recommendations to assist you with the many complex issues you need to consider when choosing the best service plan for your home or business.
Westfall's pest control service solutions offers convenient scheduling and an insect free guarantee. We understand that you only want materials applied where and when necessary that effectively targets cockroaches, ants, silverfish and common household pests. We design pest elimination protocols that will protect you while meeting your service, safety and budgetary needs.
Pest Control - Our treatment plans are tailored to work as a partnership between our staff and customers using safe methods for treating and controlling pests such as ants, cockroaches, spiders, silverfish, earwigs, wasps, centipedes, millipedes and more. We also offerwall tube installation and maintenance.
Termite Control - Termites pose a terrible threat to your home. If you suspect termite infestation, it is essential to consult with an experienced termite elimination company. Our experts will perform a thorough inspection of your home or business. If we identify a problem, we will work quickly to recommend an effective solution. We offer a unique termite bait system that will eliminate your problem. To prevent future issues, we continually monitor your home or business.
Lawn Care - Our lawn care programs are designed to promote healthy plant tissue through accepted integrated lawn management protocols. These protocols may include, but are not limited to, turf inspection, fertilization and nutrients, insect treatment, and weed elimination. We offer a variety of lawn and ornamental solutions programs.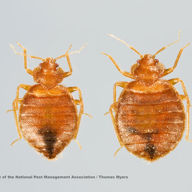 Pest infestations are the worst. Aside from property damage, some creepy crawlies can cause physical harm or transmit diseases. Learn more about the pests we consider the worst of the worst – the ones we love to hate!





 
 
Bed Bugs
 
The thought…
Westfall's

Thank you, Donna! We are fortunate to have such great customers as you.